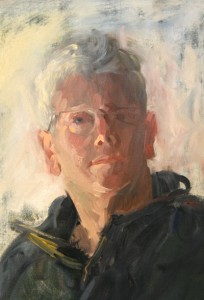 From still life, portraiture, local scenes, animal portraits and historical events, Wayne Davis has put together a body of work which encompasses not only his interests but also the fine skill of knowing his craft. This knowledge is beautifully expressed in his drawing abilities to capture the human and animal form and completing each piece with colour, tone and depth.
Wayne's abilities resulted in the invitation to compete in the William Inglis inaugural annual competition based on race horses.
Wayne has only recently taken up painting full time since retiring from the NSW Police Service.
After leaving school he joined the NSW Mounted Police – followed by time at the Police Academy at Goulburn. Retiring early at age 55 he won a twelve month scholarship to study at the Julian Ashton Art School at the Rocks in Sydney.
The school, founded in 1890 by Julian Ashton, based on Ashton's dismay at the attitude of critics of the emerging artists new style of colour and design when compared with traditional English water colour. Julian's great grandson Paul Ashton Delprat took over the running of the school in 1989. It was here that Wayne increased his knowledge and craft, winning several awards, as well as completing the Diploma of Fine Arts.
Since then Wayne has entered a number of Australian competitions and been awarded prizes and commendations. His love of horses resulted in the invitation to compete in the William Inglis annual competition based on race horses.
His love of art is coupled with his love of teaching art and fortunately for the Southern Highlands, Wayne currently tutors a class at the Bowral District Art Society and privately in his home, which sees others expressing themselves on canvas in an exciting and colourful form.
Wayne has travelled overseas to Europe and Argentina which adds to the love of his world and the many things he has yet to put to canvas.
Wayne and and his wife Linda, have lived in Bundanoon for over thirty years and have four adult children.